Blue and her Friends
No Blue's Clues site would be complete without an introduction to the characters! Here's some of the main characters, with a short description about them.
Blue
Blue is the main character of the show. She is a playful little puppy who enjoys doing fun things with her friends. She expresses this by leaving clues around the house so everyone can guess what she wants to do. Her basic mark for leaving clues is her pawprint.
Steve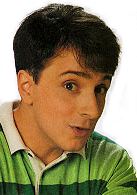 Steve is Blue's human friend. Energetic and inquisitive, he is the one who looks for the clues left by Blue, although sometimes he doesn't get them right the first time. He has a little notebook that he keeps with him at all times to keep track of the clues, so he can piece together Blue's puzzle.
Joe
Joe is Steve's younger brother, and he is just as energetic and inquisitive. When Steve goes to college, Joe is left to look after Blue and find the answers to her puzzles. He also has a notebook (given to him by Blue) to keep track of things, and it doesn't take long for him to figure things out. He also wears different colors of shirts that match his cheerful personality.
Mailbox

Mailbox delivers video letters to Blue, containing messages from children. He is very smart, yet carefree and funny. His favorite games include Musical Chairs (because he loves starting and stopping the music) and Pin the Flag on Mailbox.
Mr. Salt and Mrs. Pepper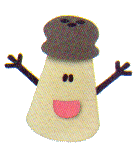 These two characters often provide Blue and her other friends with some interesting activities and puzzles to figure out, plus they're always busy in the kitchen preparing snacks for Snacktime. They have two children--a daughter named Paprika and a son named Cinnamon.
Tickety

Tickety is a playful alarm clock. She often has problems with her clock hands, but she helps remind everybody of important times. She loves tall things, counting polka dots and dancing to all kinds of music
Shovel and Pail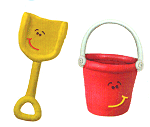 Shovel and Pail are best friends who like to play outside in the backyard. They're always exploring the world around them, and they like to do fun things like fly kites, solve puzzles and play games with their friends.
Side Table Drawer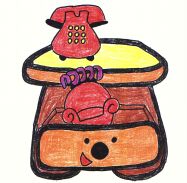 Side Table is a cheerful character who always likes to help out because she keeps the handy-dandy notebook handy and ready for a game of Blue's Clues! She loves to sing and likes all kinds of music, especially rap. She also loves to keep all sorts of cool things in her drawer.
Slippery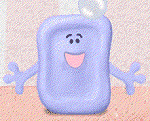 Whoooaaa! This cute little bar of soap plays in the bathroom and loves everything to do with the water, whether it's playing with boats or making pictures of undersea creatures. He also loves to slip and slide around the house looking for fun things to do.
Magenta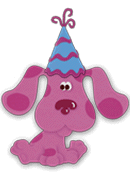 Magenta is Blue's best friend. Though they look the same, their colors are different. She and Blue are in the same preschool class and they are inseparable. She loves to read, make pawprints and have fun. Magenta also wears glasses and is owned by a girl named Miranda.
Periwinkle

Periwinkle is a kitten who moved into Blue's neighborhood from the big city and lives right next door. He is very cheerful and creative, and he is rarely seen without his favorite blue cape. Periwinkle's favorite hobby is magic.
Snail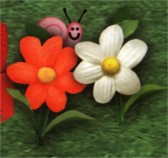 At some point or another, this cute little pink critter is always popping up to see what Blue and the others are doing. Snail hardly says a word (she does have a pretty singing voice), but she appears three times in each adventure. See if you can find her!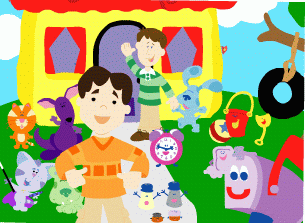 Did You Know...Blue In England
"Blue's Clues" was also big in England. The basic show is the same, but here's some differences.
* Periwinkle is a girl whereas here, he's a boy
* Shovel and Pail are known as Spade and Bucket
* Mailbox is known as Postbox
* The notebook is "super-duper" instead of "handy-dandy"
* The Steve/Joe character is called Kevin, played by actor Kevin Duala. He wears Steve's outfit
* Although much of the musical content is the same, some of the song lyrics are different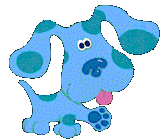 Back to Blue's World